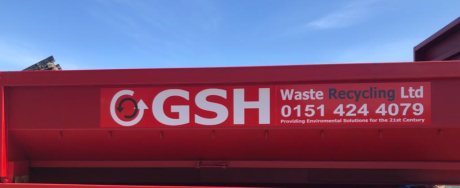 GSH provides Daresbury skip hire to suit the specific requirements of domestic, commercial and industrial customers. Our Daresbury skips are guaranteed to provide you with a sustainable investment, ensuring that you have sufficient space to store the waste that your project generates and reduce environmental impacts.
Skip hire in Daresbury will allow you to dispose of your waste effectively, ensuring that it is taken to be recycled rather than just sent to landfill. With landfill taxes set to rise, our Daresbury skips are becoming increasingly more popular, providing you with a greater value for money.
As with any of the skips we supply, our Daresbury skips are available in a variety of sizes making them suitable for a range of projects.  Whether you're looking for a suitable storage solution for the waste your home renovation project generates or something that accommodates the amount of waste your business produces on a daily basis, it's inevitable that you can benefit from Daresbury skip hire!
Here at GSH, we provide skip hire Daresbury to enable you to dispose of your waste reliably. Our skips are ideal if you want to keep your premises clean, the domestic skips are designed to store various materials that your renovation project generates, they are suitable for furniture and other unwanted household items that are often difficult to transport to be disposed of. By storing such items in your Daresbury skip, you can prevent the risk of injuries by storing them in an organised fashion. Plasterboard and Gypsum waste  –  Must be disposed of in it own allocated skip and not mixed in with other waste to avoid contamination for more information regarding plaster board skips contact us 0151 424 4079
Should you need to know more about skip hire in Daresbury, feel free to get in touch with the team of experts, here at GSH.
Call 0151 424 4079 today!
Area We Cover