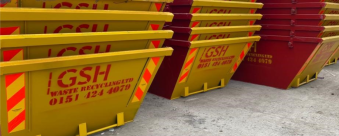 With a wealth of knowledge and experience, the team of experts at GSH Waste Recycling will be more than happy to help you to find reliable skip hire in Anfield! Regardless of whether you're looking for domestic skip hire or commercial skip hire, we have an ideal solution that can meet your exact standards.
From our extensive range of Anfield skips, you can expect to find a skip that can facilitate the volume of waste your project generates. We cater for the needs of those in the commercial and industrial sector, however, we also provide Anfield skips which are suitable for home improvements.
Our Anfield skips are ideal if you're undertaking work on your property and expect to generate too much waste to fit in a wheelie bin for the local council to collect and dispose of, or the boot of your car to drive to the landfill site. Not only can Anfield skip hire provide you with a cost-efficient solution; reducing the costs of petrol back and forth to landfill, our skips can also help you to complete your project quicker.
When it comes to skip hire in Anfield, there are several things that need to be taken into consideration including where your skip will be stored. We can supply skips to suit your specific requirements, ensuring that you have sufficient space to store your products, however, where will you keep the skip overnight?
Anfield skips that are kept on the road will require a permit if you are to dispose of your waste legally! This can be easily obtained by GSH Waste Recycling Ltd or you can go directly to your local authority. If you choose to store your skip at the side of the road, without a permit, you could face the consequences of a fine!
For Anfield skip hire, we arrange skip delivery and collection that suits you, similar to our Skip Hire Liverpool service. Don't delay and find out more about our skips today, call our team of experts on 0151 424 4079!
Area We Cover