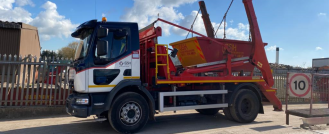 GSH Waste Recycling Ltd is your go-to provider of Frodsham skips. We provide a wide range of skips to suit the requirements of customers looking for Frodsham skip hire, don't hesitate to find out more about our skips today!
At GSH, we have the aim to divert the amount of waste sent to landfill, ensuring that it is recycled and disposed of sustainably. We don't only do this to ensure that you receive the best value for money but to protect the environment for generations to come.
Here's how it works:
We will deliver your skip to your premises at a time that suits you. Once your skip is full and you need it collecting, all you have to do is call us and we can arrange a suitable time to collect your skip. Once we collect your skip, we will take it to the recycling centre, where we aim to recycle between 80-90% of the entire contents within your Frodsham skip.
With skip hire in Frodsham, you can expect us to separate your waste into "recyclables" and "non-recyclables", ensuring that as much waste is recycled. After this, we will reprocess the waste so that it can be reused for manufacturing and other industries.
Frodsham skip hire is simple, once you know how. Here at GSH, we ask you to be mindful of what you are disposing of; keeping hazardous waste out of your skip. By adhering to such stringent rules and regulations, you are ultimately preventing the likelihood of being handed a fine or penalty! Plasterboard and Gypsum waste  –  Must be disposed of in it own allocated skip and not mixed in with other waste to avoid contamination for more information regarding plaster board skips contact us 0151 424 4079
We have a variety of skips available for skip hire in Frodsham, you're bound to find something suitable.
Area We Cover