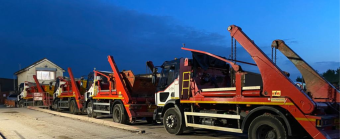 Prescot skips are something that we have in abundance, here at GSH Waste Recycling Ltd. We cater for some of the most diverse needs and wants of various sized companies, providing them with skip hire that is not only affordable but reliable too.
When it comes to finding skip hire in Prescot, look no further than GSH. We supply a complete range of skips ranging from our smaller domestic skips to our larger industrial containers; no matter what size you're looking for, we are confident that you will find it here, at GSH!
Having generated 40 years of experience in the industry, we understand the importance of finding a skip that can accommodate the volume of waste your project generates. The commercial Prescot skips are priced effectively to ensure you receive excellent value for money, these are also especially spacious and can allow you to store larger bulky materials, safely.
Here at GSH, we arrange Prescot skip hire to suit you. We can deliver your Prescot skips at a time that suits you, whether it be after work or on the weekend. As well as this, our skip hire in Prescot also includes skip collection, so in essence, all you have to do is fill the skip and leave the rest to us! With Prescot skip hire, we use our up to date fleets to transport your skips efficiently, these are all fitted with the latest technology so you can track the location of your skip.
You can count on us at GSH Waste Recycling Ltd to recycle at least 80% of all waste materials that your project generates- it's our corporate responsibility. Rather than taking the Prescot skips to the landfill site, we will transport them to the recycling centre, where we aim to recycle as much waste as possible.
If you need to know more about skip hire Liverpool or Prescot skip hire, don't hesitate to request a free quote today!
Area We  Cover