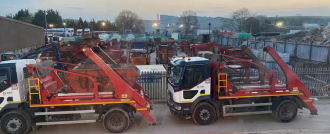 Choosing a reputable skip hire company will allow you to get the most out of your Skip Hire St Helens because they will take into consideration your exact needs and wants. Here at GSH Skips, we can provide you with all that you need to know about St Helens Skip Hire, ensuring that you choose an appropriate skip for your project.
Domestic Skip Hire St Helens
When it comes to finding Domestic Skip Hire St Helens, you're bound to find skips in all shapes and sizes at GSH Skips, leaving you spoilt for choice. Aiming to provide skip hire to suit the requirements of all customers, we can help you to determine which of our skips will suit your project needs best and which will accommodate the volume of waste that you expect your project to generate.
Our domestic skips for St Helens Skip Hire are surprisingly spacious, making them ideal for home renovation projects and garden clearances. We supply skips that can store all kinds of materials that are no longer wanted or needed, take furniture and other large, bulky materials for instance.
If you're planning to upgrade your property or garden, you're bound to benefit from hiring one of our domestic skips. The skips that we have available for hire are often seen to be a convenient substitute for driving waste to the local landfill site where materials are incinerated.
Commercial Skip Hire St Helens
The commercial skips that we have available for St Helens Skip Hire are provided to suit the requirements of all customers- including businesses. At GSH Skips, we aim to provide a suitable disposal solution for all industries, allowing you to get rid of unwanted materials quickly and easily.
Any of the commercial skips that we provide are guaranteed to match your exact standards and provide you with an ideal place to store plastic, paper, cardboard and any other commercial waste, ultimately preventing them from building up on site.
Investing in Commercial Skip Hire St Helens will enable you to maintain professionalism, ensuring that your premises are kept clean and safe. Leaving waste on the ground to pile up won't only create an eyesore for any visitors to your premises but could also lead to the risk of trip hazards- hence why we offer affordable commercial skips to ensure that you have sufficient storage space for your waste.
Transporting Skips to and from St Helens
Here at GSH Skips, we can offer St Helens Skip Hire to suit all projects, so you can rest assured that you're in capable hands! Regardless of whether you choose a domestic or commercial skip, all of our fleets are designed to transport containers with ease.
We arrange skip delivery to your premises at a time that is most convenient for you. If you're not in during the day, we will be more than willing to offer evening delivery or we can deliver skips at the weekend if this works best for you. Be sure to inform us if you have any special requests and we will do our utmost to accommodate them.
Although it can be only too tempting to overload skips, we suggest that you avoid doing so because this will prevent our fleet drivers from lifting skips onto the back of the fleets. For skips that are filled with waste that exceeds the maximum fill level, you'll either need to order a separate skip or you'll be charged to have the excess waste removed.
Find out more about St Helens Skip Hire today – Call us on 01514244079!
Are We Cover