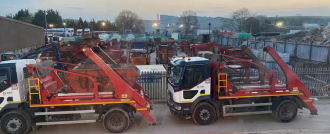 Looking for reliable, cheap skip hire in Bootle?
You're definitely in the right place.
GSH Waste Recycling Ltd is your go-to provider of Bootle skips!
No matter what you require Bootle skip hire for, we can help you eliminate waste from your home or your business. Can you afford not to find out more?
When it comes to Bootle skip hire, GSH provides something suitable for everyone, ensuring that all needs and wants are met accordingly.
We supply top-class skip hire services for an array of domestic and commercial customers, so you needn't worry about finding a skip that suits your budget specifically.
To find out more about skip hire in Bootle, get in touch with our friendly experts today!
Reliable skip hire in Bootle
At GSH, we're known in and around Liverpool – including in Bootle – for the top-class skip hire service we provide.
We've been providing these services for more than 40 years, and our team of professional and experienced waste management specialists are dedicated to making sure you get the most out of your Bootle skip hire.
We use all the latest technology and equipment to make sure all skips are delivered on time, every time and that they're perfectly positioned so that you can get started on your project as soon as possible.
Commercial skip hire services at GSH
Skip hire in Bootle from GSH Waste Recycling Ltd can cater for the diverse demands of various businesses, providing a suitable solution for storing unwanted materials.
With our commercial Bootle skips, it can work out significantly cheaper than hiring two domestic skips, proving to be a cost-effective investment to make.
As well as this, our commercial skips require fewer collections because they have a capacity which is almost twice the size of domestic skips, making them ideal for industries that generate immense volumes of waste.
Contact GSH for Bootle Skip Hire
If you're looking for Bootle skip hire, why not seek advice from our team of professionals, here at GSH? They have expertise in abundance and will be more than willing to help you make the most of your skip hire in Liverpool and the surrounding areas, including Bootle.
For us, no project is too big or too small, we aim to recycle up to 90% of all the contents held within the skip, ensuring that less material is sent to landfill, where resources are exhausted.
Click here to get a free quote now!
Area We Cover