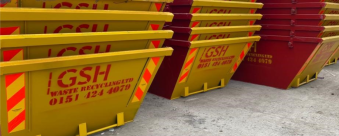 Choosing Huyton skips has never been easier. Here at GSH Waste Recycling Ltd, we specialise in Huyton skip hire. We provide an ideal solution for both domestic and commercial customers, targeting their specific needs and wants.
With a wide range of skips to choose from, you can rest assured that you will find something suitable for your project requirements. Our Huyton skips are perfect for storing any waste that your project generates, keeping your property tidy and reducing any potential hazards from arising. The commercial Huyton skips can facilitate large materials that are considered to be bulky and awkward to store.
When it comes to arranging skip hire in Huyton, we tailor our services to suit you. If you're wondering what happens when your skip is full, we can arrange to collect it using one of our reliable fleets and swap your full skip for an empty one, providing you with minimal disruption to your project.
Skip hire Huyton is exactly what you need if you want to dispose of your waste in a way that will preserve the environment. With Huyton skip hire, we take care of the disposal of the waste your project generates, ensuring that any recyclables are recycled effectively- ultimately reducing the volume of waste sent to landfill.
If you're looking for Huyton skip hire, look no further than GSH Waste Recycling Ltd, we can help you to find the right size skip to facilitate the volume of waste you produce.
If you are interested in our Huyton service you may also be interested in our Skip Hire Liverpool service. Find out more information today, call us on 0151 424 4079!
Area We  Cover