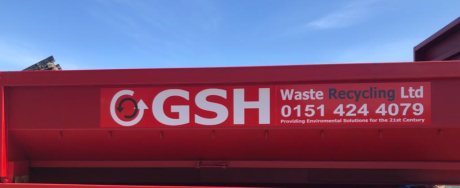 Finding skip hire in Gateacre is simple when you choose GSH Waste Recycling Ltd! We supply a complete range of skips, providing something suitable for everyone.
Here at GSH Waste Recycling Ltd, we provide Gateacre skip hire which caters for the needs of domestic, commercial and industrial projects, so you needn't worry about finding a skip that suits your waste requirements specifically. If you generate too much waste to fit in the car boot to take to the tip, why not consider hiring one of our Gateacre skips?
The Gateacre skips we supply are ideal for any project, and for us, no project is too big or too small! With our help, you can reduce the number of trips made to the landfill, not only saving you time and money but enabling you to dispose of your waste more sustainably.
Domestic Gateacre skip hire is best suited to customers looking to make home improvements or refurbishments, providing a reasonable amount of space to store materials safely. Additionally, the commercial Gateacre skips are designed to store heavy materials and immense volumes of waste.
You can expect us to deliver the Gateacre skips to a property of your choice and we will also arrange to collect the full skip at a time that suits you best. Skip hire in Gateacre is simple… all you need to do is fill your skip. Once we have collected your skip, we will take care of the waste your project generates, ensuring that at least 80% is recycled!
If you're looking for expert advice, why not get in touch with us at GSH Waste Recycling Ltd and enquire about our Skip Hire Liverpool service?
Area We  Cover