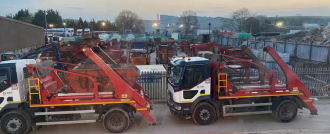 Woolton skip hire is something that we specialise in, here at GSH Waste Recycling Ltd. We have developed over 40 years of experience, so you can rest assured that you're in capable hands. Here at GSH Waste Recycling Ltd, we supply a variety of domestic, commercial and industrial skips which are guaranteed to provide you with the best value for money.
If you're looking to find out more about skip hire in Woolton, don't hesitate to seek advice from our team of experts who have generated a wealth of knowledge and experience for what works most sustainably. Our professionals are always on hand and will be more than willing to help you to choose one of our Woolton skips, taking into consideration the volume of waste you expect your project to generate and the length of time the skip will be required for.
Skip hire Woolton is cost-efficient; you pay for the amount of waste you generate and the duration of your skip hire. GSH Waste Recycling Ltd provide you with a service that is completely transparent so you needn't worry about any hidden charges or fees!
When it comes to hiring Woolton skips that are affordable and reliable, look no further than GSH today! We have an ideal solution for everyone, whether it be a domestic skip to store any waste that your home clear out has generated or any plastic or cardboard that your business disposes of daily. Here at GSH, we tailor the services that we provide to ensure you receive the best value for money.
Do you need to know more about Skip Hire Liverpool and Woolton skip hire?
Area We Cover