When it comes to disposing of waste in Liverpool and the surrounding area, GSH Skips have just the solution for you! Having specialised in skip hire Liverpool for more than 40 years, we have gained a positive reputation, delivering services to meet and exceed the requirements of various clients, including those who are looking to dispose of domestic waste and commercial waste.
Here at GSH Skips, we aim to provide affordable skip hire in Liverpool and can help you to find a suitably-sized skip. If you're not entirely sure which skip is the best fit for your project – talk to us! We can advise you on the right solution, both in terms of cost and size.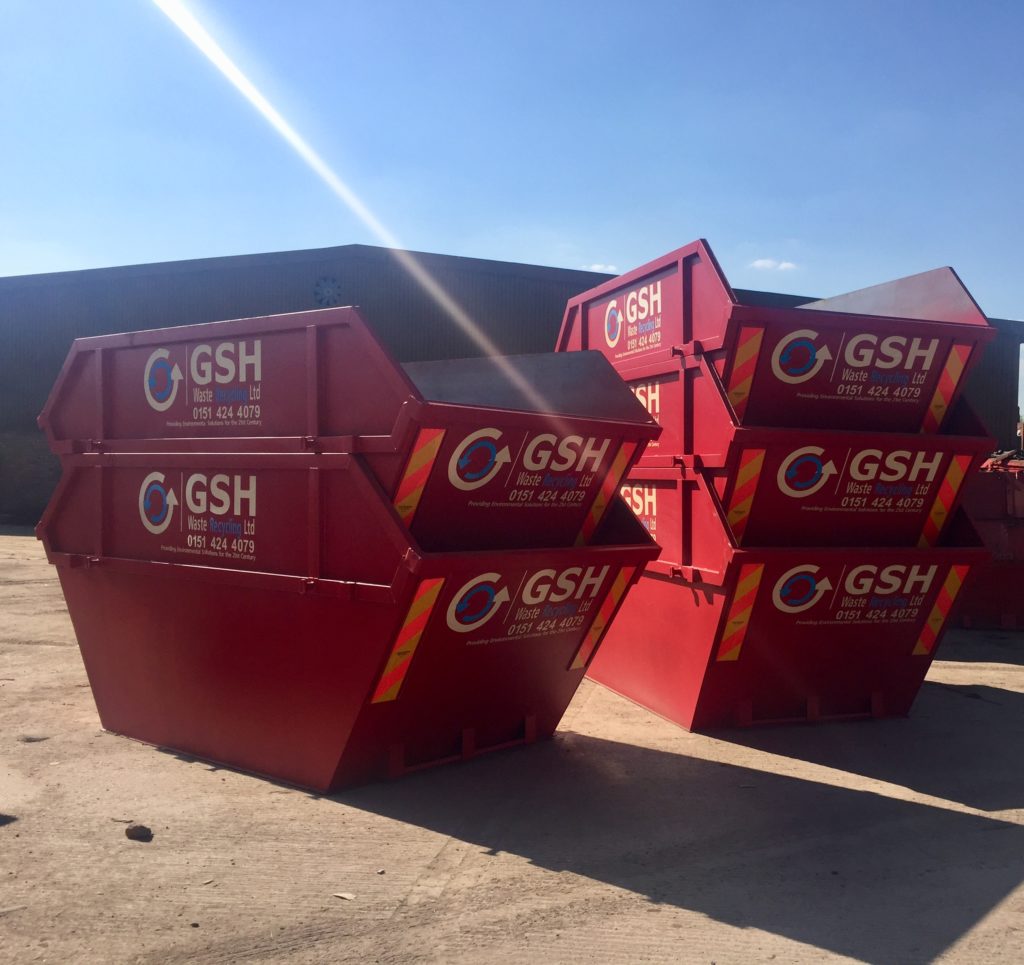 Ordering a big skip may seem like a good idea, but you'll end up paying for the extra capacity that you don't need. Choosing one that's too small is also not recommended. Although it's cheaper up front, you'll need to hire a second container to accommodate the excess waste which could make your Liverpool skip hire more expensive.
Domestic Skip Hire Liverpool
If you're undertaking work on your home and expect your project to generate a substantial volume of waste, then you could benefit from skip hire. The domestic skips we have available at GSH Skips are ideal for renovation and restoration projects that produce small to moderate volumes of waste, including old furniture, rubble and garden waste.
Our services for Liverpool skip hire are extensive. We supply skips to accommodate all types of domestic/household waste, providing you with a more convenient alternative to repeatedly loading materials into the boot of your car and taking them to the nearest tipping facilities, which is both tedious and time-consuming.
Hiring a domestic skip from GSH Skips will help to avoid the temptation to overload your wheelie bin, meaning you can stay clear of any unnecessary charges from the local council who provide your waste collection services.
Storing waste inside one of our domestic skips will also keep your property clean and allow you to dispose of waste in a safe and sustainable manner.
Commercial Skip Hire Liverpool
Depending on the scale of your project, commercial skip hire may be more beneficial. At GSH Skips, we not only satisfy the demands of domestic clients by offering Liverpool skip hire, but we also aim to suit the requirements of businesses who are looking for cost-efficient waste disposal services.
Our commercial skips provide you with much more space to dispose of unwanted materials, eliminating the likeliness of overloading the container and avoiding the need for repeat hire – helping you to budget wisely.
Like domestic skip hire, there are limitations to what can be thrown inside commercial skips. So, if you're not 100% certain what can and cannot be disposed of inside the skips that we provide, feel free to contact our team of experts – it's always better to be safe than sorry!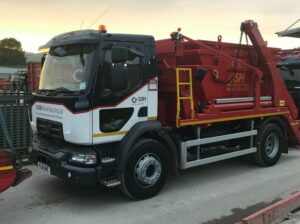 Skip Delivery and Collection
Delivery and collection are arranged at your convenience and are included in the cost of your Liverpool skip hire. As standard, we will deliver skips to a location of your choice (whether it be your home, business address, on the drive or on the road) at a time that suits you best. Please note that if you are intending to leave your skip on the road, a permit is required from the local council – but rest assured, we can obtain this on your behalf, keeping your Liverpool skip hire simple and hassle-free.
No matter which of our skips you choose, you can expect them to be transported on the back of modern fleets which incorporate the latest equipment and technology. Our fleets are easy to trace, which means that you can easily track the whereabouts of your skip and identify the delivery time. It's essential that you don't overfill your skip as this makes it difficult for our fleet drivers to collect the skip from your premises and could leave you on the receiving end of an expensive fine or penalty for not complying with skip hire Liverpool regulations. If you are in any doubt about load levels, or for tips on maximising capacity,
Plasterboard and Gypsum waste  –  Must be disposed of in it own allocated skip and not mixed in with other waste to avoid contamination for more information regarding plaster board skips contact us 0151 424 4079  speak to a member of the team.
Not only is our service for Liverpool skip hire good news for you – but it's also great news for the environment! Upon collection, all our skips are taken to the local recycling centre where 90% of the waste is recycled.
For more information about skip hire in Liverpool, don't hesitate to give us a call on 0151 424 4079 or send an email to colin.whittle@gshwaste.co.uk and we'll get back in touch as soon as we can.
If you'd like to know how much Liverpool skip hire costs, feel free to request a quick, no-obligation quote by completing the online quotation form at the top of the page. All we need to know is your name, email, telephone number, postcode and required skip size. If you're happy with the quote provided, you could be filling your new skip sooner than you think.