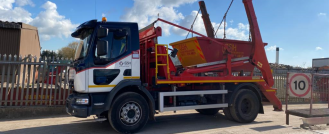 Here at GSH Waste Recycling Ltd, we provide a wide range of skips to suit the needs and wants of both domestic and commercial customers. The Childwall skips we provide are available in a choice of sizes, so you needn't worry about finding something that suits your specific requirements.
With 40 years of experience, GSH Waste Recycling Ltd provide Childwall skip hire to match your exact standards. We provide both domestic and commercial skips, ensuring that you have sufficient space to store your waste materials, no matter how big or small your project is.
The commercial skips we provide for skip hire in Childwall are extremely spacious and are designed to store immense volumes of waste. These Childwall skips are ideal for large bulky materials that are often difficult to store. By hiring one of our commercial skips, you can expect there to be fewer collections of skips, ultimately saving you time and money.
At GSH, our domestic Childwall skips are surprisingly spacious and can store large volumes of light materials. When it comes to finding domestic Childwall skip hire, look no further! We specialise in delivering skips to suit the requirements of your home renovation and restoration project, ensuring that you can dispose of waste safely.
Where you place your skip is entirely up to you. If you don't have access to a driveway, your skip will have to be stored on the road. Any skips that are stored on the road will require a permit which can be obtained by the local authority and these are provided to ensure that you adhere to laws and legislations- preventing you from being faced with a fine for disposing of waste illegally!
Should you need to know any more about Childwall skip hire, don't hesitate to get in touch with our Skip hire Liverpool team of experts today, simply call us on 0151 424 4079!
Area We Cover