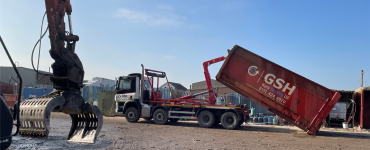 If you're looking for West Derby skip hire, look no further than GSH Waste Recycling Ltd! Offering over 40 years of experience, you can consider us to be the experts in supplying high-quality West Derby skips!
Reliable skip hire in West Derby has never been easier, here at GSH, we can provide you with an efficient service that considers your specific needs and requirements to ensure that you find the most suitable skip for your project.
If you want to receive the best value for money, you need to make sure that you choose the right sized skip, one that can facilitate the volume of waste your project generates. Underestimating the amount of waste your project generates will mean you have to hire another skip in order to complete your project. The same goes for overfilling your West Derby skips, only for this we will either refuse to collect your skip or you will be charged to have the excess materials collected.
The skips we provide for skip hire in West Derby are available in various sizes, we can accommodate the needs of almost any project- for us, no project is too big or too small! We supply skips up to 40-cubic yards and also containers which are designed for industrial use- you're bound to find something suitable!
When it comes to West Derby skip hire you can rest assured that GSH Waste Recycling Ltd will provide you with an efficient service. If you're planning on storing your skip on the road, you will need to obtain a permit for your skip hire in West Derby, making sure that you have the relevant documentation for meeting all rules and regulations.
West Derby Skip Hire is part of our Skip Hire Liverpool service. For more information on Skip Hire Liverpool, get your free quote here!
Area We  Cover