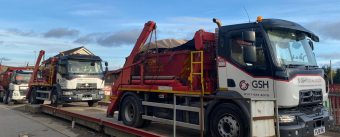 If you're looking for skip hire in Kirkby, you can rest assured that we have an ideal waste disposal solution, waiting for you!
Offering specialism in Kirkby skip hire, GSH Waste Recycling Ltd can help you to choose the right size Kirkby skips, ensuring that you receive the best value for money. We supply a complete range of sizes in the skips we provide, the smallest Kirkby skips we supply are the domestic skips which are surprisingly accommodating for all types of waste- right up to the industrial skips which are designed to store immense volumes of heavy materials.
From GSH, you can expect to receive the highest quality service possible, we provide regular skip collection for industries that require a quick change over. We will arrange to collect your full skip and replace it with an empty one, allowing you to continue with your industrial project, with minimal disruption.
When it comes to finding Kirkby skip hire that enables you to dispose of large bulky materials, our commercial Kirkby skips make it easier for you. If you are expecting your project to generate huge volumes of waste, you could benefit from hiring one of our skips today; they will allow you to dispose of materials that could cause harm if they were just left lying around on your premises.
From an environmental standpoint, skip hire in Kirkby is a sustainable alternative for disposing of any unwanted materials. With GSH Waste Recycling Ltd, you can expect to receive a transparent service, one that incorporates no hidden fees.
Our team of professionals at GSH are always on hand to provide you with free advice and support, should you need to know more about Kirkby skip hire, so don't hesitate to discuss your Skip Hire Liverpool needs in further detail.
Call 0151 424 4079 today!