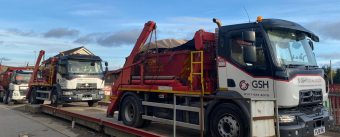 If you're on the hunt for a safe, convenient way to get rid of your excess rubbish, look no further than skip hire in Widnes.
Here at GSH Waste Recycling Ltd, you're in the most capable hands.
We provide a complete range of commercial and industrial skips in Widnes to satisfy a wide variety of wants and needs, and with over 40 years of experience in the industry, we've gathered an excellent understanding of what works best when it comes to skip hire in Widnes.
The skips we provide are ideal for almost any business.
They're surprisingly spacious and can safely store immense volumes of waste – you can rest assured that with any of our containers, you have the most ideal solution for disposing of all the waste your project generates.
In addition to this, we also have a solution suitable for domestic projects.
So, if you're undergoing any home improvements or perhaps refurbishing a new build, you needn't worry about having somewhere to store your waste whilst you crack on with making improvements.
Our domestic skip sizes are significantly smaller than those we supply for industries, but they're available in a selection of sizes, including:
4-yard midi skip – this size can hold up to 45 bin bags full of waste and is great for smaller DIY projects like bathroom or kitchen renovations.
8-yard maxi skip – as the go-to choice for more medium-sized jobs, this skip can hold approximately 80 bin bags full of rubbish.
12-yard maxi skip – if you expect your project to generate lots of bulky items, these larger containers will be perfect, and they can hold more than 120 bin bags.
16-yard maxi skip – this skip is ideal for light but bulky construction-type materials and is a popular choice for large-scale clear-ups, renovations, and refits. It can hold up to twice as much as our 8-yard skips.
No matter your project requirements, skip hire in Widnes is a worthy investment to make.
Whether you need a skip for a small-scale, one-off domestic project, or you'd benefit more from a fixed contract basis for an ongoing job at the office – we can accommodate any requirements.
Our up-to-date fleets can deliver skips to a property of your choice at a time that's convenient for you, removing the worry of projects running to time
So, if you need Widnes skip hire, or have any questions regarding the services we provide, don't hesitate to get in touch with our team of experts.
Simply call us on 0151 424 4079 today!
We're always more than happy to answer your questions and discuss your requirements in further detail.
Are We Cover