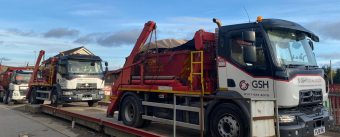 If you're looking for skip hire in Widnes, you're in capable hands, here at GSH Waste Recycling Ltd! We provide a complete range of Widnes skips to satisfy some of the most diverse commercial and industrial needs and wants. GSH are specialists when it comes to providing a reliable waste management solution, they have the know-how for what works best for Widnes skip hire.
The skips we provide are ideal for almost any business type, they are surprisingly spacious and can store immense volumes of waste in a way that's safe. With any of our skips, you can rest assured that you have an ideal solution for disposing of any waste that your commercial project generates!
As well as this, we have a suitable solution for domestic projects, so if you're undergoing any home improvements or perhaps a new build, you needn't worry about having somewhere to store your waste whilst you continue making improvements. The Widnes skips for domestic skip hire are significantly smaller than those we supply for industries; however, these are available in a selection of sizes so be sure to choose something specific.
Skip hire in Widnes is an effective investment to make, no matter whether you're looking for a domestic or a commercial skip, our up-to-date fleets are used to deliver the skips to a property of your choice at a time that suits you best- matching your exact needs.
So, if you require Widnes skip hire, don't hesitate to get in touch with our team of experts. We will be more than willing to discuss your needs in further detail, simply call us on 0151 424 4079 today!