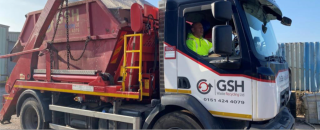 Too much waste to fit inside your wheelie bin? Why not consider skip hire in Bellevale today?
Here at GSH Waste Recycling Ltd, we provide a complete range of skips including Skip Hire Liverpool, offering suitability for domestic, commercial and industrial requirements. GSH is your go-to provider of affordable Bellevale skips, ensuring you receive excellent value for money!
When it comes to finding reliable Bellevale skip hire, you needn't look any further than GSH. We have provided Bellevale skips for over 40 years, meeting the exact requirements of various business types and industries. As well as this, our Bellevale skips are ideal for home projects like new builds or garage clearances.
GSH Waste Recycling Ltd can arrange skip hire in Bellevale to suit you; delivering and collecting your skip at a time that is most convenient. Our reliable loading vehicles are used to transport skips from one location to the next, ensuring that they are stable and secure- reducing any potential hazards from arising.
We ask that you pay careful attention to exactly what goes inside the skip because certain materials are not accepted, take hazardous material for instance. Any of the Bellevale skips that are found with hazardous waste in could be refused collection, likewise if your skip is overloaded!
For domestic Bellevale skip hire, you need to take into consideration where your skip is to be placed. If your skip is to be stored on private property, you can start your project right away, whereas skips that are kept on the road will require a permit which can be attained from the local authority. These permits enable you to adhere to the law and obtain all necessary documentation for your skip hire in Bellevale.
Request a quote for Bellevale skip hire here!
Area We Cover