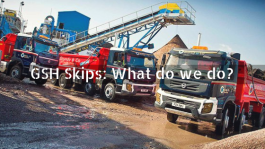 Waste disposal isn't everyone's cup of tea, grant it, but this isn't to say that you aren't held responsible for the waste that your project generates. Here at GSH Skips, we are the specialists when it comes to Skip Hire Liverpool and the surrounding areas.
You'll notice that we have a comprehensive range of domestic skips available for you to choose from, making it almost inevitable for you not to find one that meets your project requirements. Having developed more than 40 years of experience, we are more than willing to help you to find out more about Skip Hire Liverpool, so what are you waiting for?
Who we are.
Consider GSH Skips to be your go-to provider of Skip Hire Liverpool! We offer affordable skip hire for customers based in and around the North West of England, especially those in Merseyside. As a family-run business, we have built up our knowledge and understanding of what clients are looking for when they hire a skip and think nothing less than providing you with a reliable alternative for disposing of waste.
The team at GSH Skips are always on hand to help, so if you're not entirely sure which skip size you need or what you can dispose of within the skip, you're in capable hands because we can provide you with any advice or support that you need.
What we do.
GSH Skips are specialists in Liverpool Skip Hire; providing a suitable waste disposal solution for everyone!
Regardless of what work you're undertaking on your property, whether it's your residential property or your office, we aim to satisfy the demands of all clients, ensuring that you find Liverpool Skip Hire that not only suits your budget requirements but your project demands at the same time.
If you're wondering how Liverpool Skip Hire works, the process is relatively simple. We use the latest technology to ensure that our skips are delivered on time, every time. Our fleets are easy to track, allowing you to estimate what time your skip will be delivered.
When it comes to finding Domestic Skip Hire St Helens, you want to find a provider who can offer you the best deal- but without cutting any corners. Choosing St Helens Skip Hire with us will guarantee a wide range of benefits; one of the main ones being exceptional value for your money.
We can offer St Helens Skip Hire as a sustainable solution for removing waste from your property, essentially preventing it from building up and causing an eyesore.
Here at GSH Skips, we consider no project to be too big or too small, hence why we offer Commercial Skip Hire. When it comes to finding an appropriate solution for getting rid of unwanted materials, you needn't look any further!
Widnes Skip Hire will provide you with the peace of mind that your waste is handled safely and disposed of correctly, whilst complying with EU Legislations and regulations provided by the Environment Agency.
How we do it.
Skip hire is seemingly a convenient alternative for transporting waste to the landfill site where it is incinerated (adding to global warming). Not only can Skip Hire Widnes provide benefits for the environment, but it can also save you time, effort and money, loading up the boot of your car with waste that could potentially damage the interior of your vehicle.
With Widnes Skip Hire, we arrange to deliver skips to your preferred location at a time that suits you best, making your skip hire experience stress-free. The skips that we deliver are designed to accommodate all volumes of waste, so no matter what kind and how much waste your project generates; you're bound to find a suitable skip.
What you need to do.
Choosing to hire a skip from GSH Skips will allow you to dispose of waste in a sustainable way, ultimately reducing the volume of recyclables that are wrongly sent to the landfill site. To ensure that you get the most out of your Skip Hire Widnes or Skip Hire St Helens, try to donate items that can be reused or recycled, this will instantly free up space in your skip, allowing you to fit more in and allowing you to order one that's smaller and cheaper.
All that's left to do is to request a quote for St Helens Skip Hire or Widnes Skip Hire and discuss your project needs in further detail with our team of experts. Don't hesitate to call us on 01514244079 today!