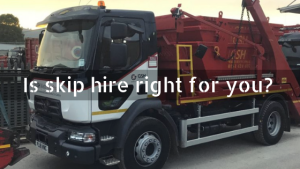 Skip hire is probably something that you are aware of but maybe it's something that you're looking to find out more about?
GSH Skips specialise in skip hire in Liverpool and the surrounding areas, offering a complete range of services to suit the requirements of customers in the domestic and commercial sector. Our domestic skips for skip hire Liverpool are great for getting rid of household waste or unwanted materials that your home renovation project throws up, where the commercial skips offer a significant amount of space that allows you to store materials in a way that's safe.
Could you benefit from skip hire?
Revamping your property.
Adding a splash of colour to walls can instantly transform a space that is overlooked. If you've decided to revamp your property and to get rid of furniture that's outdated, we can help you!
The waste that your domestic project generates needs to be managed by effective means, otherwise, this could cause more hassle than it's worth. It's highly likely that when revamping your home, destruction will take place, leaving you with a heap of waste to contend with.
To save you bags of time, effort and money, we can provide you with Liverpool skip hire which will also provide you with the peace of mind that waste is handled appropriately. In offering Liverpool skip hire, we take care of the waste, meaning that you don't need to worry about making tireless trips to and from the local tip!
Updating your garden.
Your property isn't the only thing that can be revamped… don't neglect your garden! Our domestic skips are handy for removing waste that can potentially clutter up your property, so what are you waiting for?
Offering our services to those in the surrounding areas of Liverpool, we think nothing less than providing affordable skip hire in St Helens, accommodating for even more customers. Hiring a skip from GSH Skips will speed up the process of waste removal because there's no longer a need to wait for weekly bin collections, making skip hire St Helens a more convenient option.
With St Helens skip hire, we make sure that the waste you throw inside the skip is disposed of in the most sustainable manner, ensuring that environmental targets are met. Any tree cuttings, plants, soils or grass can be stored inside the domestic skips that we supply, especially the 8-yard skips which incorporate drop doors.
The maxi skip with a drop door is best suited to gardening projects. These skips that we offer for St Helens skip hire will allow you to store materials with ease, whilst keeping the mess to a minimum.
Moving to a new property.
Think about how much rubbish will be generated when you move house before you say skip hire in Widnes isn't right for you! A property move requires a great deal of planning and once you get started decluttering, you're likely to find hidden treasures that you'd almost forgotten about.
There's likely to be tonnes of rubbish produced when you declutter your home before moving. The items that you don't want to take with you to your new property can be stored in one of the skips that we provide for skip hire Widnes, allowing you to pack up the essentials and move.
Widnes skip hire is guaranteed to make the "big move" less stressful, allowing you to sort through your belongings and get rid of whatever you don't need. The services that we provide for Widnes skip hire are arranged to offer convenience, so if there is a time that suits you best, be sure to mention this to us and we will do our utmost to satisfy your requirements.
There are countless other reasons why you might need to hire a skip, so if you're undertaking a unique project that is bound to produce immense volumes of waste, don't hesitate to discuss your needs and requirements in further detail with our team of experts. Simply call us on 01514244079 today.