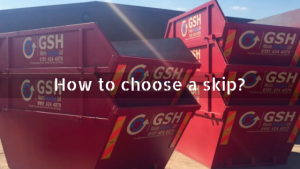 If you've decided that it's time to declutter, we have just the solution for you here at GSH Skips. We consider no project too big or too small – so whether it be a small clear out or a property move, you needn't worry about disposing of waste sustainably.
When hiring a skip, you need to make sure that you pick the right one for the work that you have in mind. Here at GSH Skips, we have a wide range available for you to choose from – including domestic and commercial skips.
Our skips for Liverpool skip hire start from 4-cubic yards and range all the way up to 40-cubic yards,  so whatever your project, you should be able to find a suitable skip.
Before you jump right in though, there are several factors that need to be considered to make sure you pick the right skip for the job:
Think about the nature of your project
How big or small your project is, determines the size of the skip you need. Here at GSH Skips, our domestic skips are better suited to smaller projects that generate a substantial amount of waste- too much to squeeze into the wheelie bin or boot of your car for a trip to the tip.
The services that we provide for domestic skip hire Liverpool are arranged around you, to ensure that you're home when we deliver your skips.
For larger scale projects, we have a selection of commercial skips available. These are ideal for high volumes of waste as they prevent debris from falling out of the sides.
Decide which skip you need
To ensure that you don't waste time and money ordering the wrong skip, we suggest doing your research to ensure that you understand what Liverpool skip hire can offer you.
Refurbishing your bathroom or kitchen is guaranteed to generate a huge volume of waste but how will you get rid of it?
Our 4-yard skips are great for DIY projects and small clearances. The mini skips that we provide for skip hire St Helens are ideal for storing small doors, cabinets and furniture- items that you'd consider to be difficult to store or fit in your vehicle to take to the local tip.
The 6-yard midi skips for St Helens skip hire are small builder skips which offer a reliable method for storing bulky items such as soil, wood and bricks.
We recommend these skips for smaller projects like garden works as they save you the hassle of transporting materials in your vehicle.
Hiring an 8-yard maxi skip will make it easier for you to dispose of heavy waste materials that can often take up a great deal of space. The maxi skips that we supply for skip hire St Helens incorporate drop doors that make it easier for you to load with waste- keeping mess to a minimum.
When it comes to finding a skip for your property clearance, you can't go wrong with the 12-yard open skips that we provide for St Helens skip hire.
The 12-yard skips are one of the largest domestic skips available at GSH and we suggest hiring one of these if you expect your project to generate large volumes of waste.
For projects where light construction waste is generated, the 16-yard skips for skip hire Widnes are ideal.
The last thing that you want to do is to fill a skip before your project is completed. Our open skips are guaranteed to provide you with more than enough space for storing waste items- whether it be wood, plastic or metal.
20-yard roll-on roll-off containers
Here at GSH Skips, we provide Widnes skip hire to accommodate businesses of all shapes and sizes, ensuring that you have ample space to dispose of waste. In offering the 20-yard roll-on, roll-off skips, we meet trade requirements.
Our loading vehicles have roll-on, roll-off mechanisms, that make it easier for our fleet drivers to lift them on and off the back of the fleets, preventing the risk of serious injury.
40-yard roll-on roll-off containers
The 40-cubic yard skips are the largest commercial skips that we provide for skip hire Widnes and we recommend them for larger clearance projects. Our largest containers are designed to suit the project requirements of industrial businesses.
GSH Skips top tips for skip hire
If you're to get the most out of your Widnes skip hire, you'll need to take the following tips into consideration:
1) Do your research
Before you rush into hiring a skip, you need to evaluate the situation and decide whether skip hire is right for you. You'll need to assess all of the disposal options that are available and then make the decision whether you could benefit from hiring one of our skips.
2) Request a quote
To request a quote for your skip hire, estimate how much waste you expect your project to generate. By estimating the amount of waste that will be generated, we can help you to identify the right skip for your project requirements and price accordingly.
3) Order a skip
All that's left to do is to choose a suitable skip. The skips that we provide at GSH are priced to suit all budget requirements and are guaranteed to provide you with ample storage space- allowing you to benefit from successful skip hire.
For more information about choosing a skip from GSH Skips, call us on 01514244079 today.