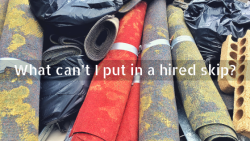 If you need to get rid of unwanted materials quickly and safely, then hiring a skip is often your best option.
For those who are hiring a skip for the first time, there are certain items that must be kept separate from the rest of the waste inside your skip as they can breach health and safety regulations. Here at GSH Skips, we can help you to get more out of your skip hire Liverpool, ensuring that your waste is disposed of correctly.
What can't be put in a skip?
Our skips are great for all kinds of projects – whether it be a home renovation or a new build – but not everything can be thrown inside.
Before you invest in Liverpool skip hire, think about whether your project will generate any of the following:
Asbestos waste
Hazardous waste, like asbestos, is something that should never be thrown in the skips that we provide for skip hire St Helens. There are strict rules and regulations in place surrounding asbestos waste disposal.
To find out how to remove asbestos, contact your local authority and they will be able to advise you.
Batteries
Our skips for St Helens skip hire are unable to accept batteries – either from your car or from appliances. The reason why we don't accept batteries is that they contain chemicals which need to be treated before they can be disposed of separately.
Batteries can be recycled, so before you throw them inside your skip, do your research and find recycling facilities in your local area. If you're looking to throw out car batteries, contact your local garage and ask them for advice.
Electrical waste
Liverpool skip hire is not suitable for electrical waste. If any dishwashers, fridges, freezers or TVs are found in the skips that we supply, it won't be long before you're on the receiving end of an expensive fine for not complying with legal regulations!
If you need to get rid of electricals, we suggest taking them to your nearest recycling facility where they can be disposed of correctly and, in doing so, you can stay clear of fines.
Gas cylinders
Whether they are full or empty, gas cylinders are not recommended for skip hire Widnes. We are not authorised to transport gas cylinders to the recycling centre, therefore, it may be worthwhile returning the empty cylinders to where you bought them from- allowing you to refill or to dispose of them safely.
Medical waste
Disposing of medical waste inside a skip not only runs the risk of infection or contamination, it can also result in dangerous consequences for you and those in the surrounding area.
Although skip hire Widnes is a convenient method for removing waste, medical waste shouldn't be thrown in the skips that we deliver. To remove medical waste, consider calling the Department of Health and they will inform you of how to dispose of unwanted items.
Paint tins
At GSH Skips, we only accept paint tins that are empty. If there is still paint in the tin, you'll need to contact the council and arrange for it to be collected and disposed of.
Plasterboard
Widnes skip hire is great for storing recyclable materials but plasterboard and gypsum waste is something that needs to be disposed of separately. If your project produces this type of waste it will need to be taken to the recycling centre.
Tyres
Old tyres require careful disposal and our Widnes skip hire services aren't suitable.
If you have a tyre changed professionally, the fitter should get rid of the old tyre on your behalf – making sure that it's disposed of in the appropriate manner. Another way to avoid throwing tyres in our skips is to reuse them for tyre swings!
If you need to know more about the do's and don'ts to skip hire Liverpool, call us today on 01514244079.